A study carried out by The Engineering Construction Industry Training Board predicts by 2026, 91,000 engineers, nearly 20% of the current UK Engineering workforce, will have retired or be just about to*. This only highlights how important it is for businesses and people to recognise the importance and role apprenticeships play in the lives of the UK's next generation of workers. To mark the celebration of National Apprenticeship Week (6th – 12th February) 2023, we are sitting down with some of our Engineering Apprentices and highlighting their accomplishments during their time at Bowers Electricals.
Meet Harry, one of our Motor & Rewinds Engineering Apprentices.   
5 years ago, this January, Harry started his apprenticeship at Bowers Electricals. Gaining his Level 3 in Engineering, and is months away from completing his Level 4, Harry sat down with us to talk about his experience on his apprenticeship.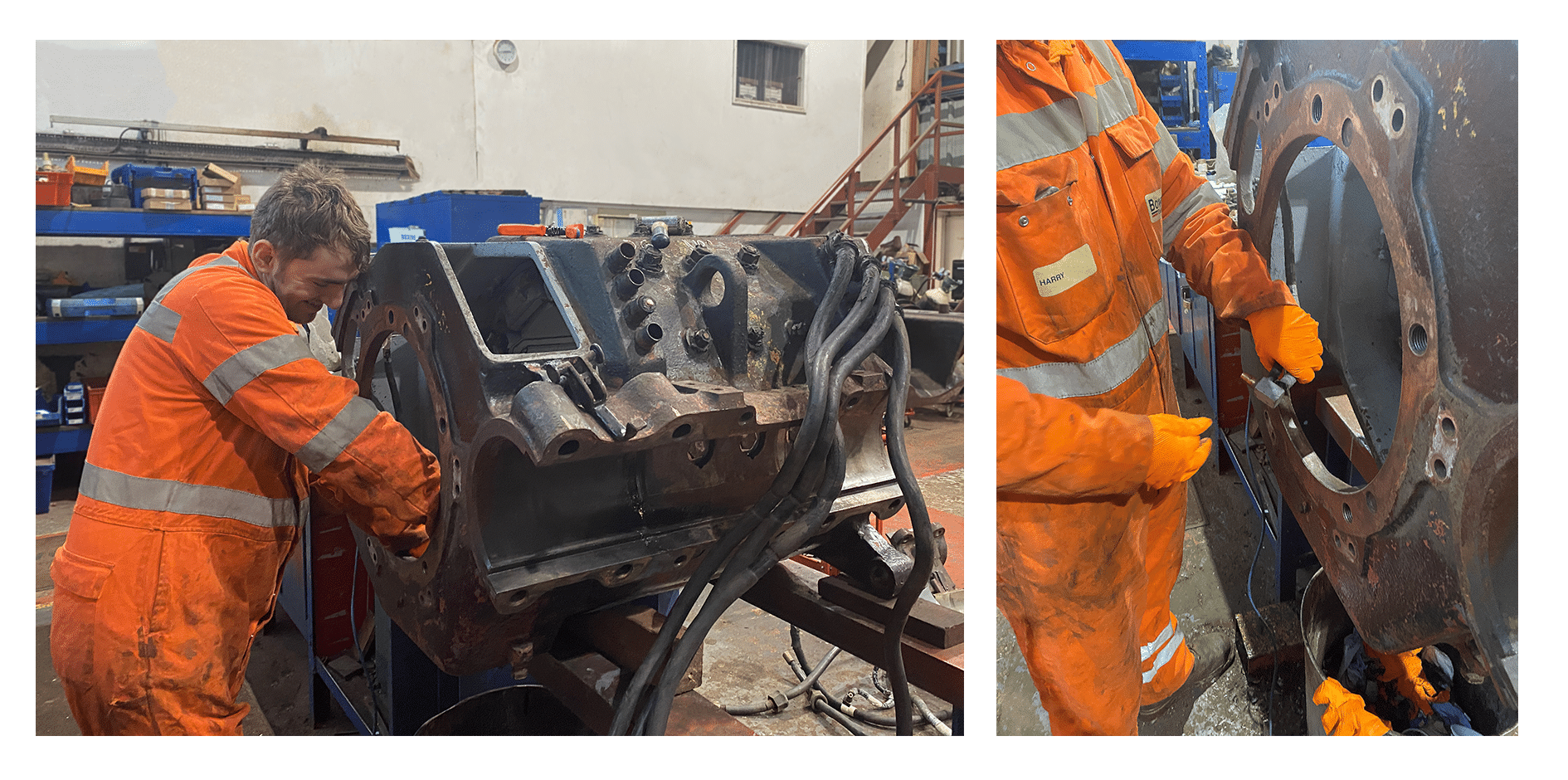 What did you do before your apprenticeship? And why did you choose an apprenticeship?
Before my apprenticeship, I was doing a different Level 3 at college in Game Programming and working as a construction labourer. I wanted to combine the best parts of both these into a more hands-on career. Which led me to the engineering industry.
Did you consider other options?
I didn't know what I wanted to do straight from finishing school, but I knew that university wasn't going to be for me. I was drawn to an apprenticeship because it's more practical learning than the exams I would have on a university course.
I was offered another apprenticeship at a different company but there didn't seem to be a clear career path within the role and business. The apprenticeship at Bowers was the best option.
What's your day-to-day like at Bowers?
It's non-stop, there's always something to do. I specialise in traction motor overhauls, which is what I spend the majority of my day doing. Sometimes it gets repetitive, but it allows me to finesse my skill. Class 20 or 37 motors I could probably do with my eyes closed!
What are your highlights from working at Bowers?
Working on the train stuff is really cool, especially the diesel locos. Knowing how they work and are powered scratches an itch in my brain.
What do you want to do in the future?
I'd like to do a lot more rewinding of big motors in the future. This isn't something that can be learnt in classes though, this skill can only really be picked up from the people here.
What are you currently working on?
This is a Class 20 Locomotive Traction Motor. It is needing a full overhaul and re-lead because as you can see they are knackered! This is for a Locomotive company based in Nottinghamshire, which we've done quite a few jobs for. A typical traction overhaul takes 2 weeks, if it needs re-leading as well that is normally an extra week.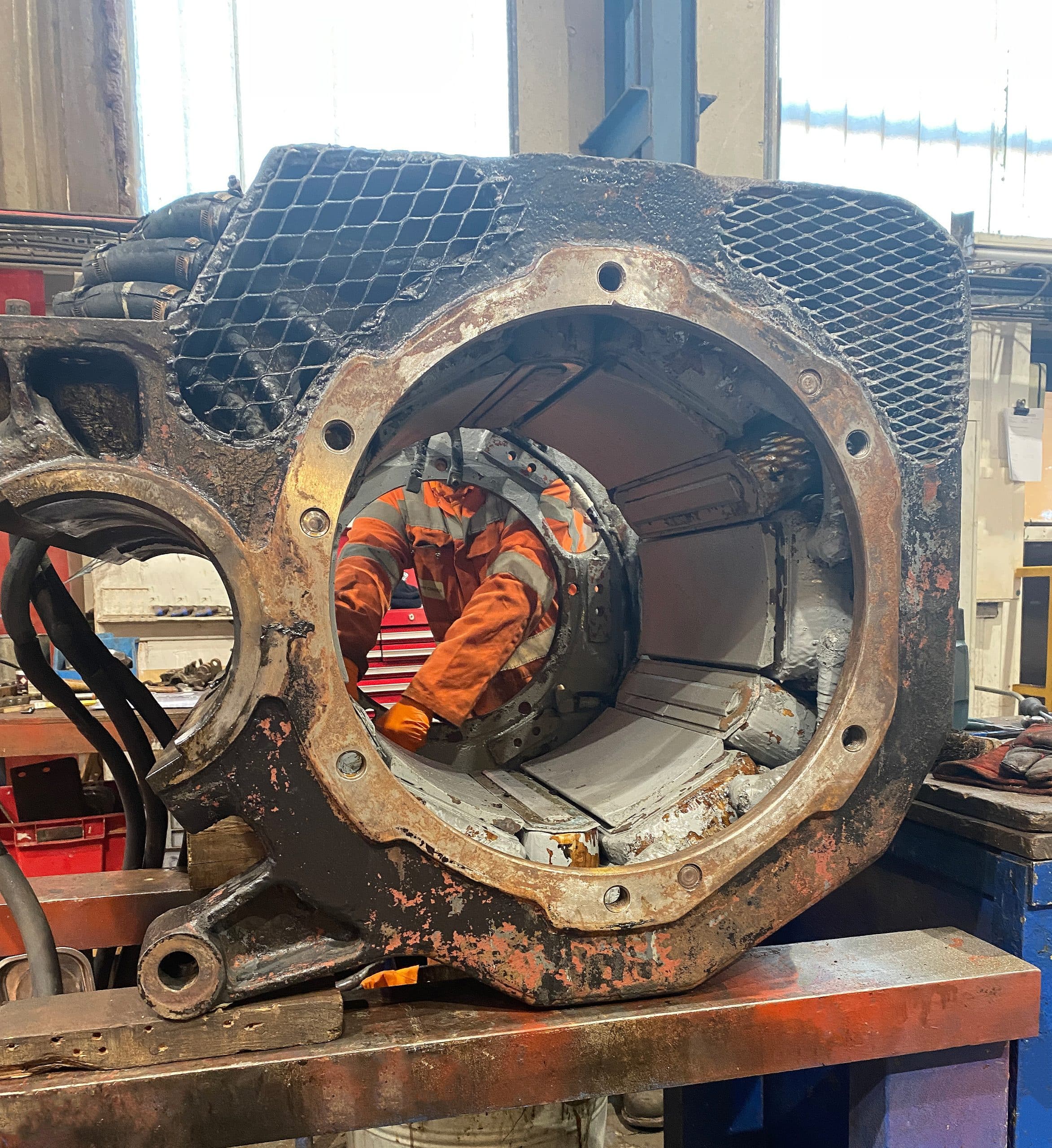 Meet Michael, another one of our Motor & Rewinds Engineering Apprentices.
Michael also joined Bowers Electricals in the same year Harry did, just a couple of months later. After completing his Level 3 in Engineering, he is working on finishing his Level 4. Michael spoke to us about his apprenticeship and his time at Bowers Electricals.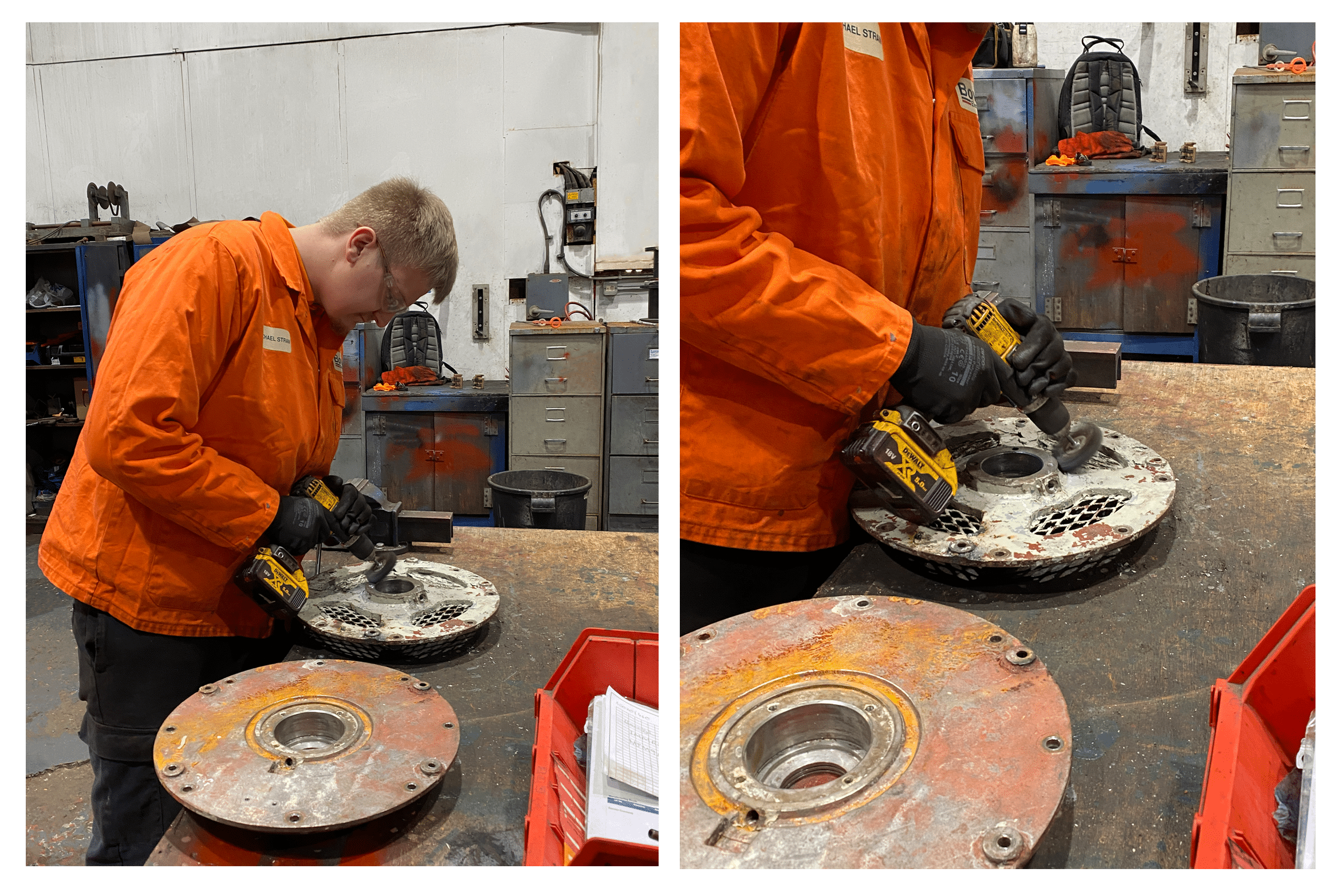 Why did you choose an apprenticeship?
I did a BTEC in Art and Animation, which then lead me to apply and receive unconditional offers for a place at university. However, I knew that university wasn't for me. My dream was to go into the army, but I couldn't due to medical issues. So, then I started to look at other hands-on careers.
Did you consider other options before your apprenticeship?
I did an apprenticeship in accounting but didn't enjoy office life. At the same time, I was working at a petrol station where I could have progressed higher, but again I knew I wouldn't get a career through that.
What do you do day-to-day at Bowers?
I typically come in at 7 am, check what jobs are on the go, and order any parts I need for those jobs. Every day there is another motor to dismantle or lots and lots of cleaning parts (which I would say is the biggest part of my job!). Every day is so different, one week I could be rewinding a motor and the next week could be dismantling a gearbox. The variety of my weeks is something I enjoy about my job at Bowers. 
What are your highlights from working at Bowers?
Completing my first rewind of a large pump motor is something I'll always remember, it felt like such an achievement. Also, learning how to overhaul flameproof motors is also a highlight because it's much more specialist and important.
What do you enjoy most about doing an apprenticeship at Bowers?
The variety of work means I can learn to do just about everything Motors and Associated Equipment! I have been offered a range of different extra courses, such as getting my crane and forklift licences, the flameproof motors course, and being a first aider and fire marshal.
I also get the opportunity to go on-site, which I enjoy because every site is different, and you never really get 2 days the same when you are visiting customers' sites.
What do you want to do in the future?
I'm looking forward to completing my Level 4 Engineering HNC qualification and being classed as a "skilled engineer".
I would eventually like to learn more about the Transformer side of the business. I think that is the next stage in my progression at Bowers Electricals. I would like to explore site visits more, learn fault finding on Transformers, and interacting with customers.

What are you currently working on?
The majority of my day is training our new Motor and Rewind apprentice. I'm putting in a lot of hours training and helping him. Around training Matthew, I'm also working on a couple of different motors.
This one is a Class 37 traction blower, a massive fan unit for a train. I'm overhauling it, which entails striping paint, new bearings, cleaning all parts and doing any repairs, overhauling the windings, rebuilding, testing, and repainting. This job will take a couple of weeks because I'll fit it between a few smaller motor jobs.
Towards the end of 2022, Bowers Electricals took on 2 more engineering apprentices that have been inducted into their college course and are already learning on the job. Noticing how well they are doing Bowers Electricals is expanding to hire 2 more apprentices for 2023.
For individuals who want to develop practical skills in conjunction with their academic development, an apprenticeship with Bowers Electricals is an ideal way to secure this.  We employ many highly-skilled electrical and mechanical production staff providing a very rich learning environment in which skills transfer to those willing to learn can take place and upon which a long-term career in engineering can be developed.
Commenting on the importance of National Apprenticeship Week, our Managing Director, Kevin Chapman, himself an Apprentice of GEC Stafford, stated "In my career, I have engaged with numerous high-calibre executives whose career began with an Apprenticeship that provided a technical grounding which I am convinced contributed to their long-term career progression.  Whilst it is hoped that our Engineering Apprentices enjoy long-term career development within Bowers Electricals, we would be equally proud for them to be future leaders in aligned industries as this can only help to promote the success of the wider UK manufacturing industry".
*https://www.theengineeringtrust.org/employer/skills-gap/